Updated:

@

24-Sep-2023 11:40am

Summary / Temperature
Wind/Visibility/AQI
Rain
Outlook

Overcast




15.9

°C
61 °F



---



Feels like:

16




24-hr difference
1°C



Today
Yesterday
High:

15.9°C


11:39am
18.0°C
4:06pm
Low:

13.2°C


6:48am
11.9°C
4:40am
Max Hmdx:
19
24 HOUR TEMP TREND
High
Low
Month:
32.1°C


on the 2nd

2.6°C


on the 20th

Year:
34.7°C


on Jul 25th

-29.8°C


on Feb 22nd

All Time:
41.0°C


Aug 11,2018

-40.8°C


Jan 28,2004

AirlinkData:

Temp18.3°C

Humidity76%


Current Gust:

4.8 km/h

1

Bft -

Light Breeze

Gust Last Hr:

10 kmh WSW

Avg. Last Hr:

2.0

Gust Today:

16.7 km/h

12:20am

Gust Month: 56 km/h September 14
Tempest Wind Data
Visibility:

16 km

Air Quality Data

US EPA AQI: 71 -

Moderate

Particulate Matter Concentration µg/m3 PM1: 13.2&nbsp&nbsp PM2.5: 21.8&nbsp&nbsp PM10: 22.6

Rain Today:

0.3 mm

Rain Today:

0.01&nbsp in.

Rain Rate (/hr):

0.00 mm

Rain Prev Hour:

0.0 mm

Rain Prev 6 Hrs:

0.3 mm

Rain Yesterday:

0.0 mm

Rain Prev Week:

0.0 mm

This Month:

x̄=27.6

8.7 mm

This Year:

262.2 mm

4 days of rain in September.

Sunday

Chance of showers
Max: 21°C

Sunday night

Clear
Min: 8°C

Monday

Mainly sunny
Max: 25°C


Humidity & Barometer
Almanac
Moon

Humidity:

85

%
Dew Point:

13.4°C

Wet Bulb:

14.5

Barometer:

101.8 hPa

Bar Trd 1 hr:

Steady

Bar Trd 3 hr:

Steady

Est Cloud Ht:

896 m

Sunrise:
6:47am
Sunset:
6:54pm
Daylight: h/m
12:07
Daylight Chg:
-00:03:47
Sun Elevation:
37.1 °
Moonrise:
5:24pm
Moonset:
11:32pm

Waxing Gibbous
69%
Illuminated

UV Index
Solar Radiation

1.3

Low

High: 1.8 @ 10:37am

163

W/m2 (

32

%)
High: 271 @ 10:38am
Regina Weather Forecast - Outlook: Today & Tonight
Sunday

Chance of showers
Max: 21°C

EC forecast: Mainly cloudy with 30 percent chance of showers near noon. Clearing this afternoon. High 21. UV index 4 or moderate.
WXSIM forecast: Partly to mostly cloudy. A slight chance of rain. Precipitation showery or intermittent. Unusually warm. High 22. UV index up to 3. Wind southeast around 6 kph, occasionally gusting to 25 kph. Chance of precipitation less than 20 percent. Precipitation mostly less than 2 mm.
Davis VP+ forecast:

Mostly clear and cooler.

Sunday night

Clear
Min: 8°C

EC forecast: Clear. Low 8.
WXSIM forecast: Mostly cloudy to cloudy in the evening, becoming fair to partly cloudy after midnight. Breezy. Low 8. Wind southeast around 12 kph, occasionally gusting to 25 kph.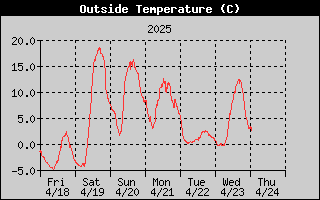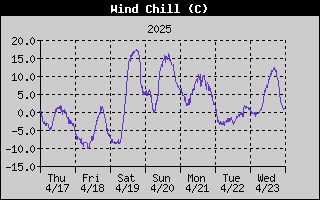 Who else is visiting NWR Weather? Click the map for details.

* AQHI value based on Particulate Matter (Ex: smoke) as measured by the Davis Airlink and inserting average yearly values for Nitrogen Dioxide and Ground Level Ozone. This value should be used as a reference only and is non-official.
Visit Environment Canada's website
for more information on local air quality.