Updated:

@

26-Sep-2022 1:50pm

Summary / Temperature
Wind/Visibility/AQI
Rain
Outlook

mostly clear




21.3

°C
70 °F



---



Feels like:

22


In the Sun: 25

24-hr difference
2.7°C



Today
Yesterday
High:

21.6°C


1:35pm
19.5°C
4:02pm
Low:

9.1°C


7:03am
2.8°C
6:14am
Max Hmdx:
22
24 HOUR TEMP TREND
High
Low
Month:
34.2°C


on the 1st

2.2°C


on the 21st

Year:
34.3°C


on Aug 31st

-34.4°C


on Jan 6th

All Time:
41.0°C


Aug 11,2018

-40.8°C


Jan 28,2004

AirlinkData:

Temp27.3°C

Humidity30%


Current Gust:

8.0 km/h

3

Bft -

Gentle Breeze

Gust Last Hr:

32 kmh NW

Avg. Last Hr:

15.2

Gust Today:

33.8 km/h

12:40pm

Gust Month: 58 km/h September 1
Visibility:

24 km

Davis AirLink Sensor

Particulate Matter Concentration µg/m3 PM1: 0.0&nbsp&nbsp PM2.5: 0.0&nbsp&nbsp PM10: 0.4

Rain Today:

0.0 mm

Rain Today:

0.00&nbsp in.

Rain Rate (/hr):

0.00 mm

Rain Prev Hour:

0.0 mm

Rain Prev 6 Hrs:

0.0 mm

Rain Yesterday:

0.0 mm

Rain Prev Week:

9.2 mm

This Month:

x̄=28.5

10.1 mm

This Year:

258.9 mm

3 days of rain in September.

Monday

Sunny
Max: 25°C

Monday night

Clear
Min: 3°C

Tuesday

Sunny
Max: 23°C


Humidity & Barometer
Almanac
Moon

Humidity:

43

%
Dew Point:

8.2°C

Wet Bulb:

14.4

Barometer:

102.2 hPa

Bar Trd 1 hr:

Steady

Bar Trd 3 hr:

Steady

Est Cloud Ht:

2224 m

Sunrise:
6:51am
Sunset:
6:49pm
Daylight: h/m
11:58
Daylight Chg:
-00:03:47
Sun Elevation:
36.7 °
Moonrise:
7:32am
Moonset:
7:00pm

Waxing Crescent
1%
Illuminated

UV Index
Solar Radiation

3.5

Medium

High: 3.9 @ 12:27pm

557

W/m2 (

94

%)
High: 591 @ 12:44pm
Regina Weather Forecast - Outlook: Today & Tonight
Monday

Sunny
Max: 25°C

EC forecast: Sunny. Wind northwest 20 km/h. High 25. UV index 5 or moderate.
WXSIM forecast: Clear. Breezy and unusually warm. High 21. UV index up to 4. Wind northwest around 20 kph, occasionally gusting to 39 kph.
Davis VP+ forecast:

Mostly clear and cooler.

Monday night

Clear
Min: 3°C

EC forecast: Clear. Low plus 3 with risk of frost.
WXSIM forecast: Fair to partly cloudy in the evening, becoming partly cloudy after midnight. Breezy. Low 8. Wind north-northeast around 12 kph, occasionally gusting to 30 kph, in the evening, becoming east-southeast after midnight.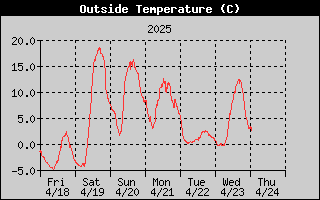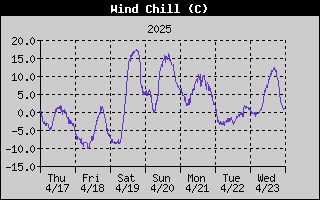 Who else is visiting NWR Weather? Click the map for details.

* AQHI value based on Particulate Matter (Ex: smoke) as measured by the Davis Airlink and inserting average yearly values for Nitrogen Dioxide and Ground Level Ozone. This value should be used as a reference only and is non-official.
Visit Environment Canada's website
for more information on local air quality.